Your account is managed through a Control Panel(also called cPanel) accessible via the Internet.
Step 1: the login address
To log in, enter the following URL based on your own primary domain name:
https://mondomaine.ch/cpanel

For example, if your main domain name is my-online-shop.com, then you can connect to the address :
https://ma-boutique-en-ligne.com/cpanel





Tip: You can add your login address to your favorites, so you can find it quickly at any time.
Step 2 : Connection
Once you have entered your address, you will arrive at the login screen: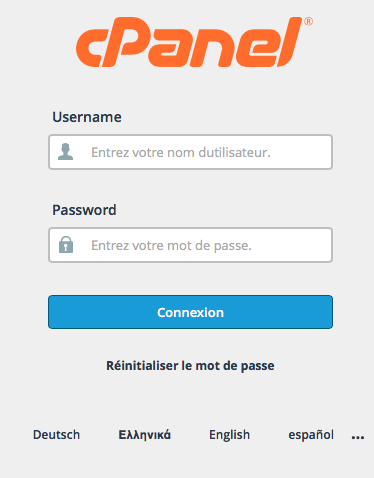 Tip: By clicking on the three small dots at the bottom right "..." you will be able to choose the language of the interface if your preferred language does not already appear in the proposed list.

Then enter yourusername in the "username" field, as well as your password in the "password" field, as they were provided to you by our services during your registration, after the validation of your order.
You can then click on the "log-in" button to log in.

If you have lost or forgotten your password, you can request a new one by following these instructions from the FAQ: How to retrieve the control panel password?
Step 3: Use
Once logged in, you will be able to, for example :
Manage your email addresses:


Create addresses.
Delete unused addresses.
Change the quotas of the mailboxes.
Change the default address.

Administer your MySQL databases.
Protect your directories with passwords.
Install scripts in a few clicks
And much more...