If your website displays a page, usually red, instead of its usual content, warning you that it is a malicious site, your site has certainly been hacked. Here are some explanations: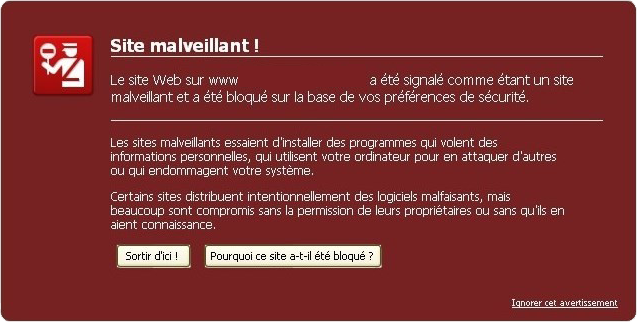 Who put this red page instead of my site?
First of all and to remove any doubt, it is not your host (in this case us) that does this, it is either your own web browser: Google Chrome, Mozilla Firefox, Safari, Internet Explorer, etc... which is the most common case; or your anti-virus software. In other words, it's your own computer or device (phone or tablet) that warns you that your site has become malicious and that you'd better beware of it. It protects you from possible virus infections by preventing you from accessing it.

As a result, your site may also be marked as "This site can damage your computer" in Google search results, or your anti-virus software may block access to your site by notifying you (without displaying the red page).

More technically, most of the time it is Google, which creates a "blacklist" (exclusion list) that is updated every half hour or so, listing the sites detected as fraudulent or risky. This detection is done automatically by Google, which scans as many websites as possible on a continuous basis, in order to update both its search and content databases. This blacklist is used either by your antivirus software to block access, or by your browser to display this famous red page before you even try to connect to one of these sites considered as dangerous.
But I have never placed any malicious content on my site, how come?
This warning can be the result of a simple invalid SSL certificate (if you use "https" access for your site), in which case you simply need to verify or force the generation of a new SSL certificate. You can find all the information about this in this article of our FAQ: How to generate an SSL certificate for my domain.

Unfortunately, most of the time it is a question of successful hacking thanks to the exploitation of security flaws in your own website: malicious people take advantage of this to place links to corrupted files or scripts in your site in an attempt to spread their virus or to harm the personal data of people connecting to your site.
To limit these risks, we advise you to keep your site up to date, especially if you use a CMS (Joomla, WordPress, PrestaShop, etc...). Indeed, regular updates allow you to correct and consequently remove these security flaws as they are discovered, thus guaranteeing you maximum security.


What do I have to do now to make my site accessible again?
You will need to fix the problems on your site that make it "malicious" in the eyes of Google. There's another topic in our FAQ describing what to do in most cases to fix your problem and "let" Google know that everything is back to normal: How do I clean up my site as a malicious page?


Security, update, configuration... I can't figure out what to do: can't you do it for me?
The management of your site is your entire responsibility, in accordance with the general terms and conditions of sale that you have subscribed to with your hosting contract with us.
But we have a notorious experience in solving this type of problem and we can, at your request, give you an estimate for the cleaning of your site as well as for its update to the latest version of the programs you use.
For any information, please contact us : support@tizoo.com